Hey all !!!!
It's been a while… things have been crazy busy over here lately with work, marathon training, studying, figuring out where I'm going to live after my lease is up and trying to enjoy the nice weather while all of this is going on.
For today's WIAW post…(thanks Jen for hosting as always) since I did not take ANY pictures yesterday this is what I WILL eat today… all planned out look at me !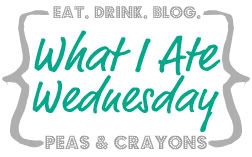 After my workout this morning.. Breakfast was just some oatmeal with a banana in there I forgot to take a pic of!
So last night I got home rather late from work, and Blue Apron was delayed due to the crazy weather here (supposed to come on Tuesdays) so I had NO FOOD in the house.  We decided to order some Italian… apparently I was HUNGRY because my eyes were much bigger than my stomach.. Pizza + Salad + Bread + Lentil Soup… I didn't even make it to the salad.. so it's Lunch today !!! I can't wait…
I bought these apple chips while shopping for my foodie pen pal box… Omg.  Guys these are DELICIOUS and So healthy !! There are literally two ingredients on this list.. Apples and salt lol I saw some other versions like Mango so… def going back and grabbing these..
Also a delicious apple.. 
Dinner tonight will be Blue Apron I am excited for this week it looks really good!  Tonight's meal will be 
Pan-Seared Hake
with Eggplant Caponata & Fregola Sarda
I have also been loving my yogurt concoction lately.. I added some peanut butter puffins to these last night so this may be in the cards for my sweet tooth tonight.. speaking of which..my sweet tooth has been OUT OF CONTROL lately and I am trying to not eat chocolate mindlessly especially at work when it seems there are always sweets at the office !!! will report back tomorrow on this one..